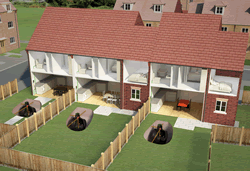 With all the benefits of a Rainwater Harvesting system, saving water, protecting the environment, and preventing flooding, it poses the question, why aren't all new build homes installing a rainwater harvesting system?
Many have been affected by the terrible flooding of 2012, a rainwater harvesting system can help to alleviate flooding.  Firstly, by filling the underground tank with rainwater, then by diverting water to a soakaway or storm attenuation crates when the tank overflows.
This releases the water slowly and responsibly without dumping excess water into already overused public drains.
There has never been a better time to install a Rainwater Harvesting system. During 2012 the UK experienced both a drought and the second highest rainfall recorded. Properties with a Rainwater Harvesting system installed enjoyed the ability to water the plants during the drought period, and helped alleviate some of the flood problems within the garden during the period of high rainfall.
Rainwater Harvesting systems are very simple to install and at Rainwater Harvesting Ltd we have introduced energy saving products to make the systems even more cost effective.