English | Espanol | Italiano | Francais | Deutsch | Portuguesa
Become a Rainwater Harvesting International Distributor
Who we are...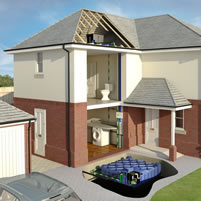 At Rainwater Harvesting Ltd, we are proud to be one of the UK's leading manufacturer and supplier of Rainwater Harvesting equipment. Operating from our 60,000 sq ft premises in Peterborough, central England, our name has become synonymous with high quality, technologically advanced, British made product.
Our products have always differentiated themselves within the industry, with intelligent design and high quality manufacture. Making them popular to both the trade, and the end user.
We manufacture our simple mains top-up device, the Backup in a box and our innovative low energy header tank system the Rain Director®. Our sister company HydroForce Pumps Ltd manufactures the HydroForce Series 3 Submersible Pump.
On a domestic level we supply full systems to end users and the trade. We have a full time technical and after sales support team that gives us an edge when trying to explain the product as we make it.
Because we  engineer an original concept, develop it through CAD, tooling, build and take the end product to market no-one understands our products better than we do in the UK.
We have been very successful in the end user market in the UK so we do understand the demands that are placed on our trade partners. We have installed a back room team that will support all activities of our International Partners.
Our aim...
We are currently in the process of sourcing distributors around the World for our manufactured products and would also be interested in finding parties that have a route to market in their own country with Rainwater Harvesting.
We have a high knowledge base in Rainwater Harvesting and can offer all products from the simple label packs up to complete systems for multi-home developments.
Rainwater Harvesting Limited prides itself on the reputation it has gained in the UK for service and quality manufacture and would like to offer the same services to our International Partners.
What is next...
You may be interested in all of our products and solutions, or you may feel that only certain products are suitable for your market. Samples are available upon request and detailed pricing including shipping charges are available once destination locations are known.
Please feel free to browse our Media Library, containing videos, manuals, shipping info and product brochures.
You could also email us for a free memory sick, preloaded with all our product brochures, promotional videos, and case studies.
Just send "Memory stick" plus your address to jae@rainwaterharvesting.co.uk
Please fill out our International Distributors form or alternatively contact:
Rob Cooper
+44 (0)1733 405 103
rob@rainwaterharvesting.co.uk