The following gives you a brief comparison between the two major styles of tank available with our rainwater harvesting systems. Please select the tank you require.
Carat Deep Dig Tank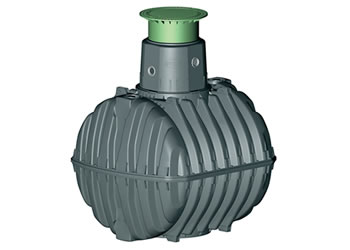 The Graf Carat tank has deservedly led the worldwide market for deep dig tanks for the last five years. Unlike any other tank of its kind, the Graf Carat is assembled from two high strength, injection moulded halves. The advantage of this is the ease to transport due to the manageable weight of the stackable halves.
Ideal for large sites with large numbers of tanks delivered simultaneously
As the tanks are delivered in manageable halves, the tanks can be delivered to areas with poor access
Lower purchase price
German made with trusted GRAF name
Inclinable lid can be used in sloping areas, allowing up to a 5° tilt.
F-Line Shallow Dig Tank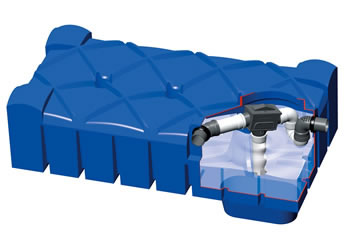 The F-Line shallow dig tanks have become hugely popular due to their easy and cost effective shallow dig design. Unlike traditional, spherically shaped tanks, the F-line range from just 1015-1415mm deep. This means the excavation is quick, safe and efficient even by hand! Everything about the F-Line tank range lends itself to an easy, trouble free installation. This is why they have turned into our best selling tank range.
Minimum installation depth
Less earth to remove
Tank delivered in one piece with pre fitted filter, overflow and calmed inlet
No need to concrete in
Suitable for high water table locations
Best seller