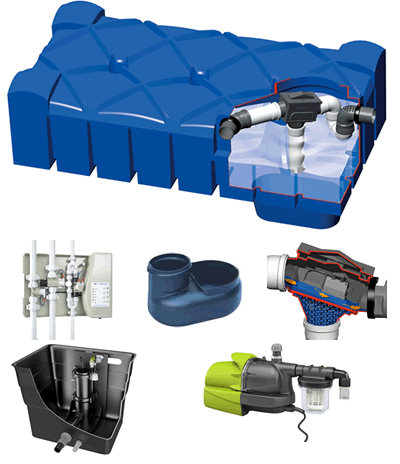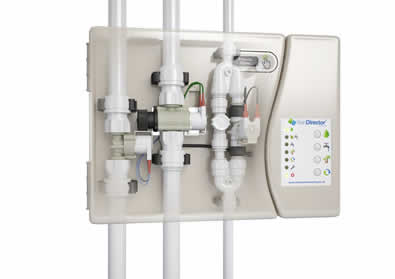 Rain Director® Control Unit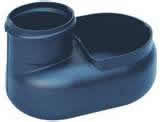 Calmed Inlet prevents sediment from being stirred up keeping water clean and clear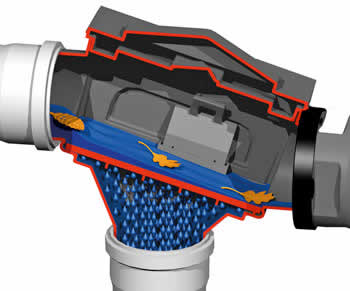 Rewatec McClean Self Cleaning Filter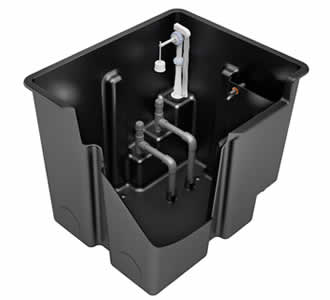 Smart Header Tank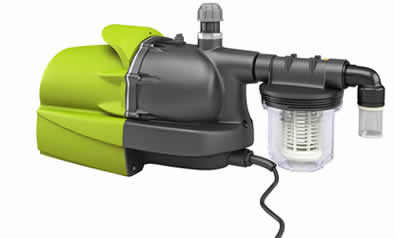 HydroForce™ Series 3 submersible pump
F-Line Tank Header Tank System
Our Rain Director® Gravity system is an easy and cost effective solution offering rainwater for domestic use, ideal for flushing toilets and washing machines as well as garden irrigation and other outdoor uses including car washing by simply capturing all of the rainwater from your roof area.
System includes:
F-Line Flat Tank offers optimum use of the tank volume with the introduction of a pump basin. Due to it's flat construction an installation depth of up to 60% less than other tank types can be achieved, the F-Line Flat Tank is quick and easy to install as well as offering low installation costs. All F-Line Flat Tanks are weight tested to 10 tonnes (equivalent to 1.44m of earth) and come with a 25 year guarantee.


McClean Intergrated Fine Filter comes pre fitted to the F-Line Tank, providing 95% water yield with a fine filter mesh of only 0.8mm. The filter cartridge is easily removed for maintenance and cleaning. The filter also comes with pre attached overflow siphon that simply flushes away any light materials such as pollen, which can form a floating layer via two exit slits when the tank overflows.


HydroForce™ Series 3 Submersible Pump is a British manufactured twin chamber design with alloy bulkhead, and features a self controlling pressure switch, non return valve and dry run protection. The HydroForce™ Series 3 can produce up to 3.5 bar of pressure and deliver over 2500 litres per hour with a power usage of 800 watts at 220-240v AC and comes supplied with a stainless steel strainer and a 10 metre cable.


Rain Director® the only WRAS approved rainwater management system, designed and built by RainWater Harvesting Ltd this intelligent gravity feed system ensures constant supply of water to all amenities even in the event of a power cut. Pump activity has been reduced due to level sensors within the smart header tank only demanding rainwater when the header tank is almost empty. Auto flush function refreshes water within the header tank to prevent stagnation when system detects a 72 hours period of inactivity. Complies with U.K. Building Regulations by means of an appropriate air gap.
Benefits
Premium domestic system for toilets, washing machines and garden use.
Low energy Rain Director® header tank system, running costs from 1p per person per day.
Shallow dig tank, for easy and cost effective installation.
Automatic mains water backup, in any eventuality- low tank water, pump failure or even power cut.
Ultimate control, unique smart features.
Everything included to run a full system.
Size*
Length
Width
Height
(tank body)
Height
(inc. entrance shaft)
Weight
Inflow**
Overflow
1,500 ltr
2400mm
1200mm
650mm
1015mm
80kg
330mm
385mm
3,000 ltr
2400mm
2400mm
650mm
1015mm
170kg
330mm
385mm
5,000 ltr
2960mm
2220mm
955mm
1350mm
250kg
335mm
385mm
7,500 ltr
3340mm
2310mm
1125mm
1415mm
310kg
325mm
375mm
* The useable volume can deviate according to connection variation approx. 10% from the nominal volume
** Top edge shaft extension including lid to invert level
RainWaterHarvesting Ltd is the UK's largest stockist of Rainwater Harvesting tanks and as such can offer competitive prices for trade and commercial sales.
RainWaterHarvesting Ltd are also experienced in dealing with multi-dwelling and housing developments requiring multiple installation of rainwater harvesting tanks, and can give advice on meeting required Code levels, planning stipulations and flood attenuation issues.
Call us now on 01733 405111 for more information, or visit our store http://www.rainwaterharvesting.co.uk/